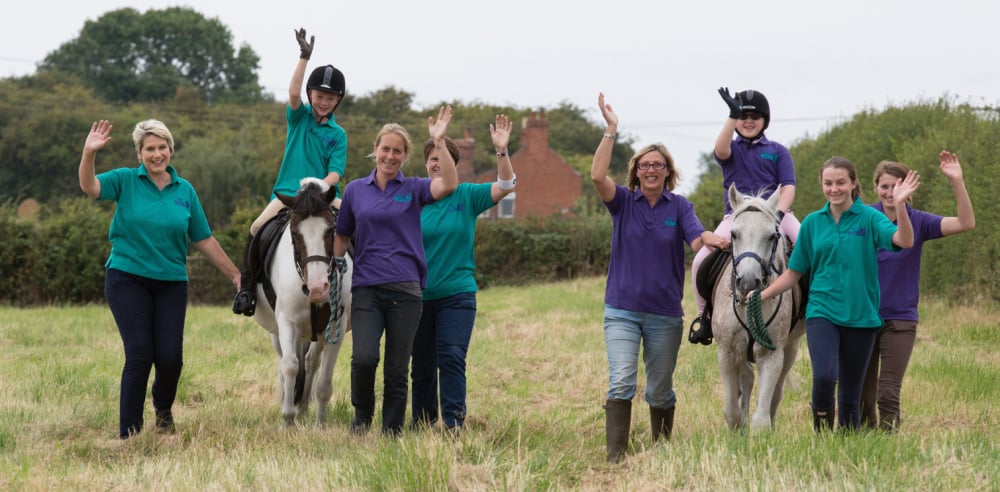 Welcome to the Belvoir Vale RIding for the Disabled Group.
Belvoir Vale RDA is an independent charity which is proud to be a member group of the Riding for the Disabled Association. We offer a wide range of equestrian opportunities for adults and children with disabilities. The group is based at Belle Vue Stables in the beautiful village of Colston Bassett.
Click here for our location details.
To ensure our riders have the best possible experience, riding sessions are held with a very small number of riders. We offer lessons in the arena, walks in the country, summer schools and the chance to compete in RDA events.
Riding is an adventurous outdoor activity which is tremendously beneficial for people with a wide range of disabilities. Click here for more information.
We are very lucky to have a small but wonderful team of ponies, varying in size from just over 12hh to over 16hh. Our ponies' welfare is always our main concern and our maximum weight limit for riders is currently 12 stone.
As a charity with no direct funding, we are entirely dependent on fund raising and voluntary contributions to support the ponies and riders. Donations, whether one-off, or in the form of sponsorship, are all gratefully received. For further information please click here.
Belvoir Vale RDA cannot function without its dedicated and friendly team of volunteers. These include the coaches, pony leaders, side-helpers and those who work behind the scenes in the stables or on our Board of Trustees. Please click here for more details of the varied ways you can help.
BELVOIR VALE RDA - therapy, achievement and enjoyment through riding.